YI JEWEL was founded in 2018.
The namesake jewelry line pays homage to designer's Chinese name Yi, meaning "one-of-a-kind", "artistic" and "full of joy" characteristics she hopes to bring forth in each of her tailored jewelry pieces.
YI JEWEL's philosophy, rooted in luxury and quality, is achieved by entwining creative design with excellent craftsmanship. Working in tandem with quality gemstones and precious metals, YI JEWEL's designs embrace elegant minimalism while ensuring perfection and precision.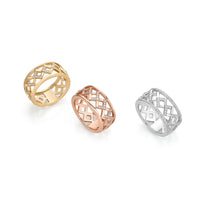 Madison
Encapsulating the classic architecture of Manhattan, YI JEWEL presents its Madison Collection, which embraces the essence of New York City through its use of geometric shapes and clean lines. The collection epitomizes modern elegance and the courage to pursue dreams.
Discover more
Terra
Celebrating the beauty of mother nature, Terra's iconic pieces embody the power and grace of the natural world. Irregular textured metallic lines are elevated by pavé diamonds, and is a testament to the beauty of our precious Earth
Discover More